06/04/1988
-LILI & SUSSIE("Oh Mama" "One More Night")

-SANDRA("Stop for a Minute" CLIP)
-CRUZADOS("Smalltown Love" "Bed of Lies")
-ROBBIE ROBERTSON("Somewehere Down the Crazy River" CLIP)
-MIRAGE("Jack Mix VII")
-WARLOCK("All We Are" CLIP)
-VICKY LARRAZ("Rich Girl" "No Te Metas en Mi Cama" "Out of Sight Out of Mind")
13/04/1988
-ANONIMO K.

-INXS("New Sensation" CLIP)
-AZUCENA("Estrella del Rock" "Colgada de Ti")
-LEONARD COHEN("First We Take Manhattan" CLIP)
-BROS("When Will Be Famous")
-SINITTA("Cross My Broken Heart" CLIP)
-SO("Are You Sure" CLIP)
-THE CHRISTIANS("Forgotten Town" "Ideal World" "Born Again")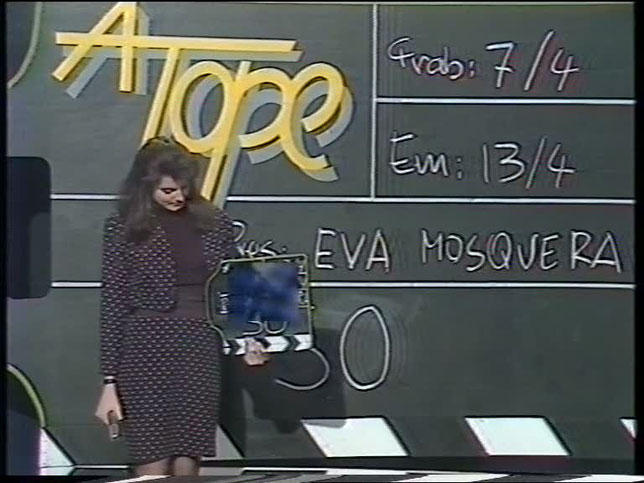 20/04/1988
-ALEX Y CRISTINA("Hago Chas y Aparezco a tu Lado")

-MADNESS("I Pronounce You" CLIP)
-LOS NEGATIVOS("Quien Ocupó Mi Lugar")
-LOS RONALDOS("Eres Fresca" "Quiero Mas")
-IRON MAIDEN("Can I Play With Madness" CLIP)
-COCK ROBIN("El Norte" "Cowards Courage" "After Here Through Midland" "Another Story")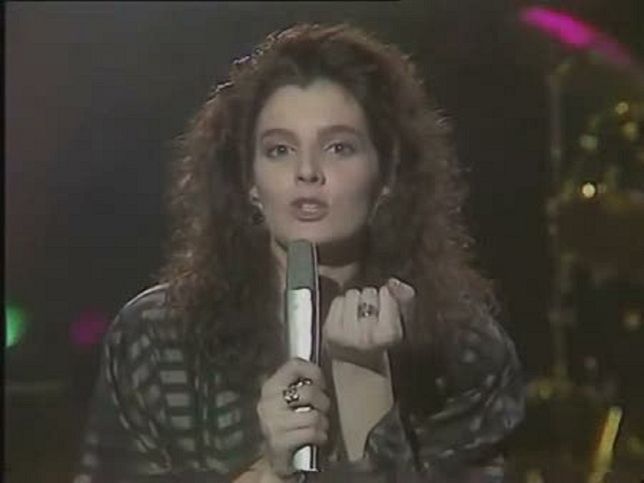 27/04/1988
-JULIA CLAIRE("Cat In Disguise")

-EDDIE GRANT("Gimme Hope Johanna" CLIP)
-GERMAN COPPINI("Aprendiz de Brujo" "Por Una Caperuza")
-TENESEE("Rama Lama")

-MEGADETH("Anarchy in the UK" CLIP)
-THE CHURCH("Under the Mily Way" "Reptile" "Antenna")
EDDY GRANT "Gimme Hope Jo'Anna" LA BOLA DE CRISTAL 18/06/1988

El inolvidable clip "Gimme Hope Jo'Anna" de Eddy Grant fue estrenado en "A Tope" el 27/04/1988 y también sería reemitido posteriormente en programas como 3x4 o "La Bola de Cristal"(a la que pertenece esta grabación). En aquellos días la canción estaba comenzando a sonar en nuestras emisoras de radio antes de convertirse en uno de los megahits del verano del 88. Much@s nos enteramos años mas tarde de que Jo'Anna haciá referencia a Johannesburgo en lugar de al nombre de alguna mujer, como algun@s pensabamos(y eso que el clip no dejaba lugar a la duda del mensaje de la canción)

Publicado por I love Tocata 80s en Miércoles, 27 de abril de 2016
04/05/1988
-ALMA("Con Una Noche Cerca de Ti")
-BLACK("Everyhting Is Coming Up Roses" CLIP)
-MANDY SMITH("He's My Boy" "Boys and Girls")
-WHITNEY HOUSTON("Where Do The Broken Hearts Go" CLIP)
-AVIADOR DRO("Corazon Artificial" "Arkangel")
-ZIGGY MARLEY("Tomorrow People" CLIP)
-JOE COCKER("Two Wrongs" CLIP)
-TINO CASAL("Degeneración" "Oro Negro" "Eloise")
11/05/1988
-DESIRELESS(Fragmento de "Voyage Voyage" y "John")

-BIG PIG("Hungry Town" CLIP)
-CIUDAD JARDÍN("Su Casa Es Suya" "Emmanuelle Negra en el Valle de los Zombies")
-TIFFANY("I Saw Him Standing There" CLIP)
-TAM TAM GO("I Came For You" "Manuel Raquel")
-PET SHOP BOYS("Heart" CLIP)
-OBÚS("Necesito Más" "Sigue Corriendo" "Me Persigués")
18/05/1988
-ZUCCHERO("Senza Una Donna")

-B.V.SM.P.("I Need You" CLIP)
-21 JAPONESAS("Pensando en Verte o No Verte")
-GEORGE MICHAEL("One More Try" CLIP)
-CRISTAL OSKURO("Aun No Ha Llegado el Día" "El Elefante")
-STING("Fragile" CLIP)
-GUESCH PATTI("Etienne" CLIP)
-TAYLOR DAYNE("Tell It To My Heart" "Prove Your Love" "I'll Always Love You")
25/05/1988
-EIGHT WONDER("I'm Not Scared")
-A-HA(Entrevista y "Stay on These Roads" CLIP)
-FRENILLOS("La Primavera") *Quizá también "Las Toallas del Lavabo"
-CROSS("Heaven for Everyone" CLIP)
-MICHAEL BOLTON("Thats What Love Is All About") *Sin confirmar fecha
-BAD BOYS BLUE("Don't Walk Away Suzanne")
-SADE("Love Is Stronger Than Pride" CLIP)
-EROS RAMAZOTTI("Dialogo" "Mientras el Cuerpo Resista")
* SÁBADO NOCHE 23/07/1988
01/06/1988
-ANTONIO FLORES("Gran Vía")

-STATUS QUO("Ain't Complaining" CLIP)
-ESCORIA ORIENTAL("Sue Ellen" "Ordeñador Personal")
-DEBBIE GIBSON("Out of the Blue" CLIP)
-COMPLICES("Seras Mi Complice" "Sonrisa Plateada")
-SCORPIONS("The Rythm of Love" CLIP)
-PREFAB SPROUT("Cars and Girls" "King of Rock'n Roll") *Quizá la 3ra fue "When Love Breaks Down"
* PROGRAMA "SÁBADO NOCHE"
* "Coleccionista" fue emitida en Septiembre de 1987 en "A Tope"
08/06/1988
-FUNDICION ODESSA("Explicate" "No Perdere La Cabeza por Ti")

-TINA TURNER("Addicted to Love" CLIP)
-MANI("Johnhy and Mary" "There's No Colors)
-BILLY OCEAN("Get Outta My Dreams Get Into My Car" CLIP)
-KRUIZ("Last Down" "Distant Light")
-NEW ORDER("Blue Monday '88" CLIP)
-GODFATHERS("Birth School Work Dead" "It's So Hard" "Cause I Said So")
* LA IMAGÉN(Y LA SEGUNDA ACTUACIÓN DEL VÍDEO) PERTENECEN A LOQUILLO DE SU PRESENTACIÓN EN A TOPE DEL TEMA "EL ROMPEOLAS" EL 31/08/1988
15/06/1988
-PABELLON PSIQUIATRICO("Las Momias No Tienen Novia")

-BRYAN FERRY("Limbo" CLIP)
-AZUL Y NEGRO("Es El Colmo de Amor")
-HOUSEMARTINS("There Is Always Something There to Remind Me" CLIP)
-O91("La Torre de la Vela")
-POISON("Nothing But a Good Time" CLIP)
-HOMBRES G("Tengo Una Chica" "Si No Te Tengo a Ti" "Sueltate el Pelo")
22/06/1988
-A CAUSE DES GARÇONS("A Cause Des Garçons")

-FEARGAL SHARKEY("Outta My System" CLIP)
-SECRETOS("Nada Más " "Volver a Ser Un Niño")
-BANANARAMA("Love in the First Degree" CLIP)
-BARRICADA("Rojo" "Bajo Control")
-MICHAEL JACKSON("Dirty Diana" CLIP)
-STATUS QUO("Who Get's the Love" "Ain't Complaining" "Cross that Bridge")
29/06/1988
-NIAGARA("I Will Be There")

-THE COMMUNARDS("There's More to Love" CLIP)
-GIAN LUIGI FRANCO("Siren Ligheia")
-BLUE MERCEDES("Love Is the Gun" CLIP)
-BVSMP("I Need You" "Be Gentle")
-BELINDA CARLISLE("Circle in the Sand" CLIP)
-RAMONCIN("Fe Ciega" "Forjas y Aceros" "Ayudame")